Microsoft Office, Seattle, Bldg 44
I have an hour and half to wait for my first interview at MS. After last night of darkness and rains when I hardly get to see anything around, I am finally looking out into the beauty of Seattle for first time in daylight. I saw those conical (seemingly evergreen) trees in green and yellow spread all over the ups and downs. Half the leaves falling, its like a carpet covering the earth. The weather is always 'just about to rain' and is seriously romantic I should say. Alas, I am sitting dressed in business casuals in this office lobby. I sit facing the glass walls purposely to view the pretty sight outside. Just now, I noticed the glass ceiling as well….hmm, pretty impressive!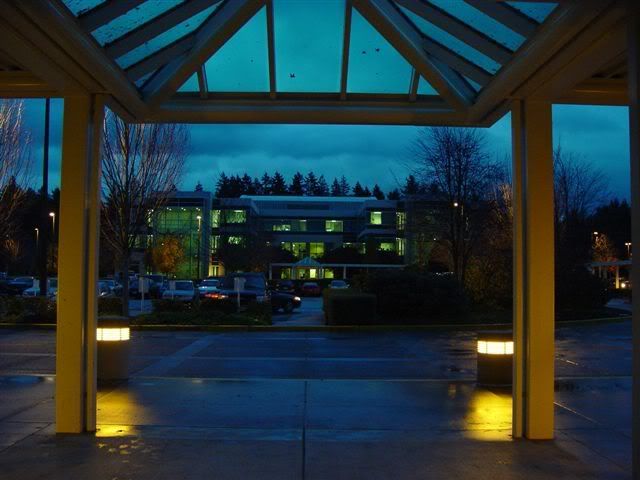 I am jotting this blog at back of the 'micronews' given to me earlier in the morning along with the interview catalogue, it seems like the daily circulation at MS offices.
For some weird reason I am seeing lot of desis coming for the interview :). My campus interviewer was just passing and recognised me! I chatted with him for sometime before he left saying 'excellent' at least a 100 times. I am now seeing a 'ese' coming in for a change! This reminds me of a funny full-form of UIUC – Univ of Indians n Univ of Chinese. We were once joking that China has managed to control its population by dispersing the eses all around the globe. Thus, you be at any non-ese country, your chance of spotting an ese should be nearly constant…amazing probability consistency! I guess India too got a lot inspired by this chinese solution, the govt. is literally doing anything it can to motivate the talent to move abroad – Hail Indian Govt!
Khair back to the MS offices, a good thing about them is their spread out distribution. Probably none of the building is more than 3-4 floors. Theres lot of greenery around. The trees outside are dancing out to a slow wind as the leaves continue to enrich the ground carpet. I should probably research a bit on why does it rain so much here though thankfully its not raining right now. But glass shows the signs of a passing drizzle.
I am desperately trying to get into the interview mood and this blog isn't really helping me 🙂 Besides I am almost out of paper space now, so here I shall end…