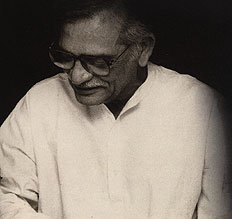 If one enumerates the people who have made hindi cinema more beautiful and sensitive by their contributions, Gulzar would be a front runner in the list. His ingenius creativity has come alive on the screen so many times and he has created his own class. I can not help noticing his respect and recognition of another genius that we know of, Mirza Ghalib, in his works. His lyrics oft get leverage from his knowledge of urdu and sher-o-shayari. And his adoration for the language can be seen from this particular line in Dil Se – "wo jiski zabaan urdu ki tarah", where urdu has been used as a metaphor for softness and sophistication itself. He uses Ghalib's shayari in another song in Dil Se, – "ishq par zor nahi, hai ye wo aatish Ghalib. jo lagaye na lage, aur bujhaye na bane".
But the most direct connection can be seen in the TV drama series that he created on the poet in 90s which starred Naseeruddin Shah. I watched few episodes that were available on you-tube. It is a master-piece and brings out the best in Gulzar. His story-telling, direction and dialogues are epitome of artistic brilliance. The performance by Naseer lends that realistic touch to the character that lets the viewer feel the pang and inspiration behind the creations of Ghalib. Jagjit Singh's and Chitra Singh's renditions are commendable. It is a treasure for people who are passionate about Ghalib and urdu poetry in general. The way Gulzar has used shers in various suitable situations gives these shers that added romanticism that makes them all the more unforgettable.
Khair, Ghalib par koi kya khaak kahega, let me just quote this dialogue (as far as i can remember) from the drama-

The inspector: "Kya jaanti ho Ghalib ke bare me, karz me doobe rehte hain"
Navaabjaan: "Aur dilli par jo unka karz chadh raha hai, use dilli ki saat pushtein bhi nahi chuka payengi"

Overall, Ghalib's life was a distressed and sad one. His different viewpoint of God and religion, fondness for wine and bad credit did not make him an ideal person in the society during his times.
And again, I have digressed from the topic of 'Gulzar and Ghalib' to Ghalib!
So, let me finish here. Gulzar sahab is fantastic in his interpretations, presentations and simplicity. Oh, and this one more example-
"jee dhoondta hai phir wahi fursat ke raat din,
baithe rahein tasavvur-e-jaana kiye hue"
I am sure I do not need to tell you where was this used. There must be many more examples. If you can get hold of a copy of Mirza Ghalib dvd, it will be your lucky day!
Looking for more urdu, poetry and Ghalib related works? Click here.